Goodman's air conditioners are all about reliable cooling at an affordable price. The GSX14 line of air conditioners provides efficient cooling with a nominal SEER rating of 14. The savings don't stop at energy costs though, the GSX140181 is designed for quick installation and maintenance as well. It includes advanced components that protect the coil and compressor to ensure the unit's longevity and your peace-of-mind. Upgrade to a Goodman air conditioner today, and stay cool for years to come.
Advanced Coil Design

The condenser coil of this air conditioner is designed with aluminum fins and rifled copper tubing to maximize efficiency. The fins and rifling serve to increase surface area, allowing the heat transfer capabilities of the materials to shine.

Secure Cabinet

The cabinet of the GSX140181 is built to last. Galvanized steel construction, a durable powder paint finish, and a steel coil guard protect your equipment from wear and tear, increasing its longevity.

Filter Drier

A filter drier is installed in the liquid line of this air conditioner. The filter drier removes moisture and traps impurities, preventing corrosion, freezing, and blockages that can negatively impact the operation of the air conditioner.

Quiet Comfort

The GSX140181 features a three-bladed condenser fan, wire fan discharge grille, and louvered top, all designed to reduce noise levels without compromising performance.

Extended Warranty

Goodman offers a 10-year limited parts warranty when you register your product online within 60 days of installation. An unregistered product has the standard 5-year warranty. See warranty sheet under the "Manuals" tab for more information.
Product Note
The recommended line set size for this unit will vary based on the length of line set you require for installation. Compatible line sets can be found under the "Recommended Accessories" tab. | The US Department of Energy regulates minimum efficiency standards for central air conditioners and heat pumps based on geographic regions. We are required to abide by these regulations when selling products, and take this responsibility seriously. The standards depend on the rated efficiency of the entire system, not the nominal efficiencies of individual components. If you are unsure if your system will be compliant, please call or email us for help.Due to US Department of Energy minimum efficiency standards, this air conditioner cannot be installed in Arizona, California, Nevada, or New Mexico. The GSX140191 central air conditioning condenser is recommended for installations in these states.
GSX140181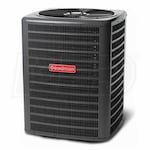 General Information
Installation Location: Outdoor
Compressor Stages: Single
DOE Regional Compliance: North and Southeast
Performance
Cooling Capacity: 18000 BTU
Maximum Sound Level: 73 dB
Electrical Data
Minimum Circuit Ampacity: 9 Amps
Recommended Breaker Size: 15 Amps
Dimensions
Suction Connection Size: 3/4 Inch
Liquid Connection Size: 3/8 Inch
Product Height: 27 1/2 Inches
Product Weight: 126 Pounds
Shipping Weight: 141 Pounds
Certifications
Country of Origin: United States
ETL Listed: Yes
Warranty Information
Parts Warranty: Limited* 10 Years Years