Product Description
Goodman established itself as the largest HVAC manufacturer in the US by producing high-quality, efficient equipment and providing it to homeowners at a great value. The GSZ14 heat pump has a nominal SEER rating of 14 and a minimum HSPF of 8.2 to ensure efficient comfort regardless of your application. The savings don't stop at energy costs; the GSZ140361's design allows it to be quickly installed and serviced. It includes advanced components that protect the coil and compressor to ensure reliable operations and peace of mind. Become a heat pump household today, and enjoy efficient comfort from a single piece of equipment through all four seasons.
Advanced Coil Design

The condenser coil of this heat pump is designed with aluminum fins and rifled copper tubing to maximize efficiency. The fins and rifling serve to increase surface area, allowing the heat transfer capabilities of the materials to shine.

Quiet Comfort

The louvered top and three-bladed condenser fan of the GSZ140361 were designed to reduce noise levels without compromising performance. This model also has a discharge muffler to reduce vibrational noise.

Filter Drier

A biflow filter drier is installed in the liquid line of this heat pump. The filter drier removes moisture and traps impurities, preventing corrosion, freezing, and blockages that can negatively impact the operation of the heat pump.

Secure Cabinet

The cabinet of the GSZ140361 is built to last. Galvanized steel construction, a durable powder paint finish, and a steel coil guard protect your equipment from wear and tear, increasing its longevity.

SmartShift

Goodman's SmartShift technology, combined with ambient and coil temperature sensors, gives this unit a quiet and effective defrost system. SmartShift also helps to prevent short-cycling, increasing the efficiency of defrost operations.

High-Efficiency Compressor

This unit utilizes a high-efficiency scroll compressor to provide refrigerant flow. Scroll compressors are renowned for operating more smoothly and reliably than traditional compressors.

Compressor Protection

Goodman installed two layers of compressor protection in the GSZ140361. A suction accumulator collects excess refrigerant, while a crankcase heater ensures that the compressor stays well-oiled by maintaining a temperature that limits oil migration.

Extended Warranty

Goodman offers a 10-year limited parts warranty when you register your product online within 60 days of installation. An unregistered product has the standard 5-year warranty. See warranty sheet under the "Manuals" tab for more information.
GSZ140361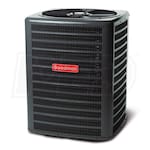 General Information
Operating Mode: Heating and Cooling
Installation Location: Outdoor
Compressor Stages: Single
DOE Regional Compliance: Nationwide
Installation Available: Yes
Performance
Cooling Capacity: 36000 BTU
Maximum Sound Level: 74 dB
Electrical Data
Minimum Circuit Ampacity: 20 Amps
Recommended Breaker Size: 35 Amps
Dimensions
Suction Connection Size: 7/8 Inch
Liquid Connection Size: 3/8 Inch
Product Height: 36 1/4 Inches
Product Weight: 183 Pounds
Shipping Weight: 199 Pounds
Certifications
ETL Listed: Yes
Warranty Information
Parts Warranty: Limited* 10 Years Years
Other Details
Goodman's standard 10 year parts warranty with online registration through the manufacturer.
Product Videos
Custom Field
Product Reviews